Everyone at GazeHawk loves reddit, so we decided to run a study tracking the eye movement of people looking at reddit. Here's how it worked: we recorded the (x, y) coordinates of where our study participants looked while checking out reddit. We overlaid them onto a picture of the site, and then colored and blurred the points. The result is a heatmap, which graphically displays where participants looked. Below is part of the heatmap for a single person; click for the whole imshr.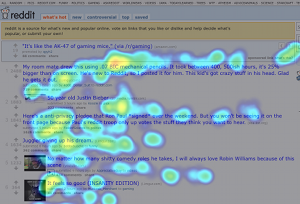 As you can see, the coordinates of a person's gaze tend to clump together. That's because the eye doesn't move continuously: rather, it jumps around (saccades in technical lingo) to different spots (fixations). You can read more quick facts about how the eye works at our last article. It seems this participant is spending most of his or her time reading the descriptions of links — the F-shaped pattern of the gaze is typical of someone in "reading mode", and he or she doesn't pay any attention to the background areas at all. We found this is typical of veteran redditors: they focus on the content they're interested in, filtering out everything else.
Here's a heatmap showing the combined interest of everyone who participated in the study; bright colors on a spot mean more people looked there.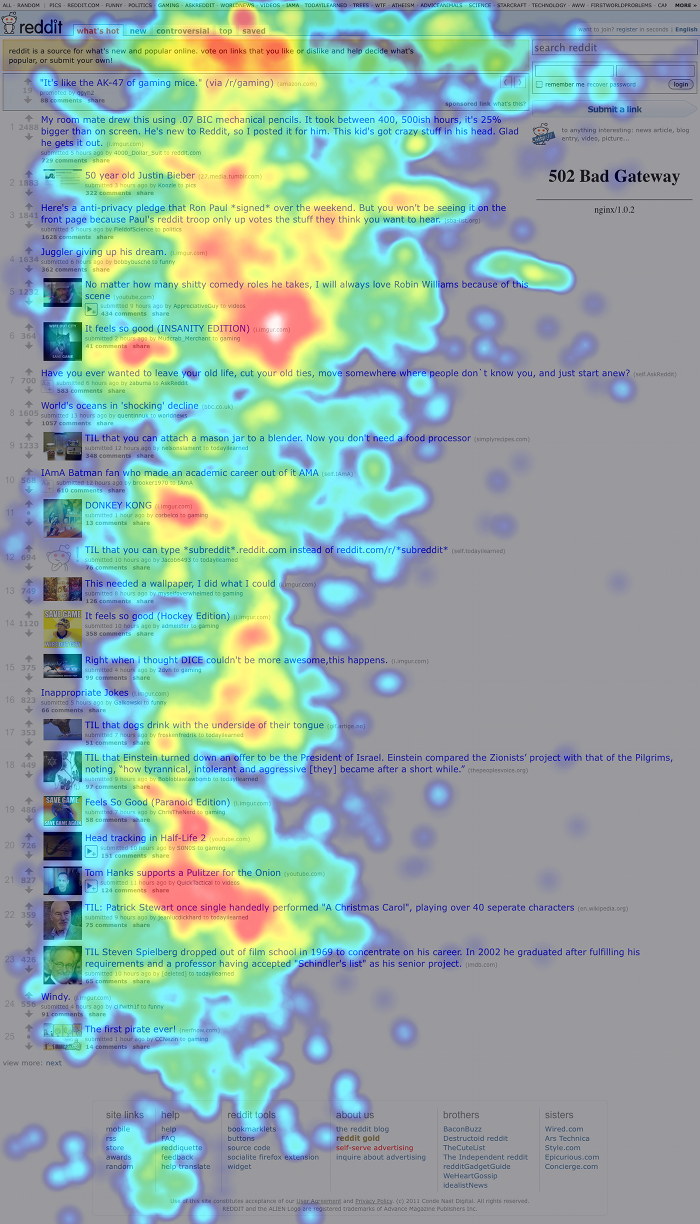 It looks like people pay most attention to the top links and the bottom — there's a space in the middle that gets less attention. Looking at the click-rates in our sample confirms this: links toward the bottom got clicked more frequently than those in the middle, but weren't as popular as the top links.
But here's a question: do people who use reddit all the time — the real addicts — look at reddit differently from people who have never seen it before? Here's a side-by-side comparison of the two groups: new users on the left, veteran redditors on the right. As usual, click for the full-sized image. edit: A lot of people have asked for the definition of "veteran redditor." For our purposes, a veteran was someone who reported visiting reddit more than once a week. A new user had never been on the site before.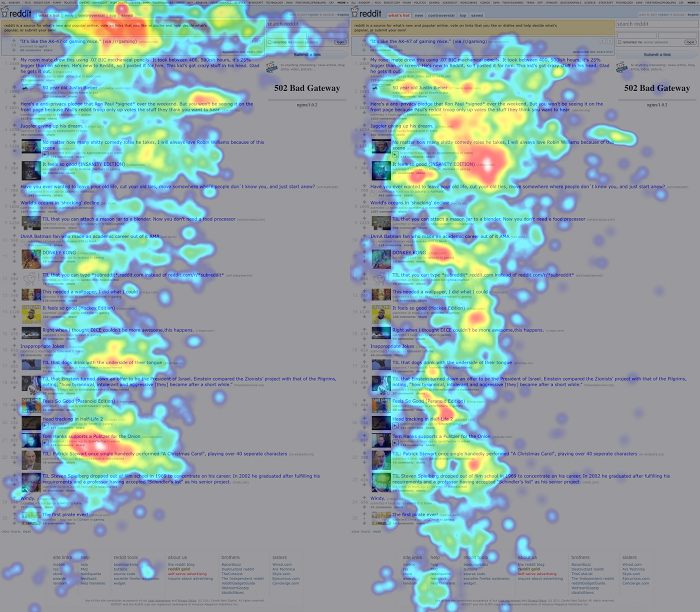 Look at the differences for a moment. Veteran redditors barely paid any attention to the "welcome to reddit" header, whereas the new users stared at it for a long time. And while both groups became less likely to read a long link description as they scrolled down, the veterans lost focus much more quickly. It's as if being on reddit for a while has made them jaded and shortened their attention span. Moreover, the average distance between the fixations of veteran redditors was smaller than it was for the new users — indicating that either only certain types of people become redditors, or that the veterans' reading patterns had changed, becoming more similar to each other over their time on the site.
Now, I don't want to get carried away with this analysis. When I joined GazeHawk, one of the first things I did was write an article about the dangers of inferring too much from heatmaps. With that said, this is great; using this sort of eye tracking tech, we can easily demonstrate that reading reddit is a skill that develops and changes over time. Odds are, visitors to your website change their habits with experience as well.